Follow the links to see my work featured elsewhere online, read articles in the press, see my work in short films, listen to interviews and explore other relevant connections…
Follow the link link to an interview discussing the process and creation of the double portrait of Frances Kyle and Averil Deverell , the In Plain Sight commission for King's Inns and The Bar of Ireland.
Artist Emma Stroude In Conversation, In Plain Sight, The Bar of Ireland

Follow the link to an interview about my work and practice with Anjali Singh of The Asian Curator
Asian Curator – Interview with Emma Stroude

My work is represented in Ireland by :
I have links with Claremorris Gallery
Artist in Residence at Sligo Gaol, 2018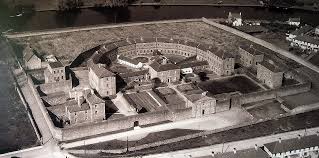 Publications
My work is in Luciano Benetton's Collection, Imago Mundi
I am the driving force behind the Graphite & Easel life drawing sessions at The Model, Sligo
Check out this review of the group by Rebecca Kennedy on The Model's blog.
Articles and Recordings
Irish Arts Review – 90 Irish Female Artists in London Celebrating St. Brigid's Day
Irish Times – RHA Annual – No Wallflowers at This Rowdy Art Party, Gemma Tipton
Sunday Times – The RHA Annual Show Shines a Light on Ireland's Best and Brightest Artists
Irish Times – Potential of Dark Tourism Underlined at Sligo Gaol Event, Marese McDonagh
Sligo Champion – Collins Gained Inner Peace While in Sligo Gaol
Sligo Champion – Last November a group of five women made a cold and crispy journey to Coney Island all for the purpose of their art.
Five Glens Arts Festival in Conversation with Painter Emma Stroude , March 2016
Caren Hardiman of Athlone's LUAN Gallery talks about Ask the Artist-Emma Sroude
CONEY a short film about our group exhibition featuring Aideen Connolly, Medbh Gillard, Diane Roemer and Lorna Watkins and myself by Carola and Bernd Gotta
'Coney, Conversations, Caravans and Easter Widows' , Magnum Lady's Blog from 2014
Spike-Sligo Radio Show with Tracey Moberly and Jane Milligan