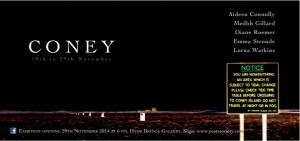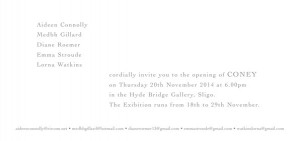 On a cold, crisp November morning five women made the carefully timed crossing out across the sand flats to Coney, a small island in the mouth of Sligo Bay that withstands the might of the wild Atlantic on its Western side. For some it was a journey into unknown territory, for others among them, the island was already an old friend.
The five women were Aideen Connolly, Medbh Gillard, Diane Roemer, Lorna Watkins and Emma Stroude, all artists, all friends. They were embarking on an artists' residency. The days that followed were spent working, exploring, investigating, soaking up the sensation of separation, isolation and the presence and character of the island itself. Although home was tantalisingly in sight, the residency provided an escape from responsibility and a chance to be truly alone and undisturbed. Separately they enjoyed moments of complete solitude and together they shared and fed from each others experiences, insights and diverse perspectives.
A year has passed and the work that began during their time on the island is now culminating in a group show entitled 'Coney' at The Hyde Bridge Gallery, Sligo. The diverse skills and perspectives of the group are highlighted in this exhibition featuring drawing, painting, sculpture, mixed media and print. This show promises to conjur up memories for those already familiar with the island and tempt those who have not yet visited to check their tide tables in preparation for their first venture out across the strand. It presents five alternative visions of a place, a time and an experience never to be forgotten.
'CONEY' runs at The Hyde Bridge Gallery, Sligo from 18th – 29th November 2014,
Celebratory night – 6pm, Thursday 20th November